"Cecilia"
Snare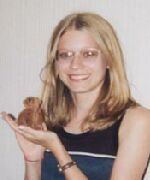 Graduation Year: 2001
Hair: Blonde
Eyes: Blue
Hobbies: Shooting (not hunting), writing, and writing her web page!
Fav Music: All kinds... David Bowie, Beck, Radiohead, Pearl Jam, Classical, Lynard Skynard, etc. R&B, Rap, Hard core ska.
Quote to Live by: "Remember, you can't get jiggy wit it in the Navy, but you CAN get jiggy wit it in Old Navy." -Me

For more info of Cecilia, visit her web site at http://ceciliawong.mainpage.net.

Back